Bucket Material: HDPE, Nylon, PU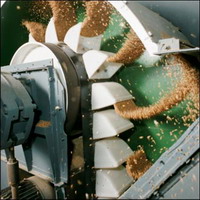 Remark:
HDPE buckets should not be used with the following work condition:
1.Materials over 75<C.
2.Sharp edged materials such as crushed glass or oyster shells.
3.Large dense materials such as gravel and ores over 3/8" diameter.
4.A few extremely abrasive and sluggish materials such as dried whey, some pellets and extruded feeds.
5.Some severe soybean and rice applications
Nylon buckets should not be used in the following:
1.Materials over 120<C.
2.Large dense material such as gravel and ore over 3/8" diameter.
3.Some sharp sluggish materials such as large glass cullet or oyster shells.
PU buckets should not be used on the following:
1.Materials over 100<C
2.Large dense materials such as gravel and ores over 3/8" in diameter.
3.Some sharp sluggish materials such as large glass cullet.

Key Features and Benefits:
, Long lasting , tough and flexible!low rate material damage
, Innovative design,clean discharge , reduce backlegging,
, Thick wall, strong and long lasting
, Non sparking, --avoid the dust explosion possibility
, Comparing to metal bucket, itself light weight, reduce energy consumption.
, Non corrosive
, FDA approval-- non toxic and no causticity itself, suitable for food industry.
, High impact and abrasion resistant

Bucket Applications:
Suitable for grains ,feeds, fertilizer, seed, salt , sand ,food products chemicals

Technical information:
COLOR: White (standard color),Other color upon request
Temperature: HDPE ( -51<C to + 75<C) ;Nylon: -40<C to + 120<C; PU( 51< C to + 100<C)
Standard drilling : No charge
Special drlling: Any pattern and hole diameter can be provided at minimal cost.
Capacity: Net or usable capacity could range from 10% to 20% above water level. For engineering purposes recommends using ZY (Water Level) + 10% for usable capacity.
Spacing:recommends using nominal projection plus 2".
INTERCHANGEABILITY: Can be intermixed with existing steel or nonmetallic buckets. Some consideration should be given to balance.
INSTALLATION: Fanged elevator bolts are recommended
Sanitation: meets the requirements of the Food Additives Law and Regulation
CAUTION: Welding and cutting on elevator legs without taking proper precautions is extremely dangerous and can cause a violent explosion. Polyethylene buckets can be ignited and will burn from improper welding and cutting.